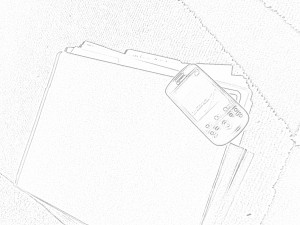 Most people will admit that they have, at one point or another, texted or talked on a cell phone while driving. This is especially true for young people and many teenagers will readily tell you that texting or talking on a cell phone while driving is just what teenagers do. Most people believe that they can talk or text on a cell phone and drive safely. In addition, many believe texting is okay because it's pretty quick, unlike a phone conversation. The fact is distracted driving kills and is a very serious safety concern. Talking or texting on a cell phone is among the most dangerous activities you can engage in on the road. In fact, talking on a cell phone while driving is equivalent to having a blood alcohol content above the legal limit of 0.8. If you were pulled over with this 0.8 blood alcohol content, you would be guilty of driving under the influence in Illinois. Of course, most people wouldn't drive drunk, but it is interesting just how many will engage in actions that amount to drinking and driving.
One of the biggest causes of car accidents is related to distracted driving. According to the Department of Transportation, one in five (or 20%) of personal injury crashes are caused by distracted driving. Further, nearly one in seven (or 16%) of fatal car accidents involved reports of distracted driving. In 2009, 448,000 people were injured and 5,474 people were killed in distracted driver related car accidents.
Teen drivers are particularly at risk for dying in such automobile accidents due to their comfort level in texting and/or talking on a cell phone while driving. Car accidents are
the leading cause of death among teenagers. A recent survey also indicated nearly 84% of teens text or use a cell phone while driving even though they are aware of the danger.
Contrary to popular belief, even though it is true that talking on a cell phone is a safety concern, texting while driving is by far the most dangerous activity that you can engage in while driving. This is because it involves manual, physical, and cognitive distraction all at the same time. It also takes your eyes off the road for 4.6 seconds. If you are traveling at 55 MPH while texting, then you are willingly driving the length of a football field while completely blindfolded. Many might say that you might as well have a cigarette in your mouth and a group of people pointing guns at you!
The results can be beyond tragic. For example, in 2010 a five-year old who dreamed of becoming a football player was
struck while crossing the street by a young woman who was texting while driving. Following the accident he was paralyzed from the chest down. In another incident, a couple both lost their left leg because a 19-year-old sideswiped them after crossing a double yellow line while texting.
This problem is only expected to get worse as text and cell phones become more widespread. In June 2011 alone, 196 billion text messages were sent or received in the United States. This was a 50% increase from June 2009.
With regards to your personal injury case, it can have a major impact on your case in three very important ways.
First, if you were texting or talking on a cell phone and caused severe injuries to others, you are going to get sued. You will also likely lose because, in order to win a personal injury case, the other side will generally need to prove two things (that you were at fault and that they have injuries as a result). With the sheer amount of scientific data demonstrating the dangers of using a cell phone while driving, it is going to be virtually impossible for you to argue that you were paying attention. The research showing that talking on a cell phone while driving is equivalent to being a drunk driver will almost certainly be the nail in the coffin for anyone that thinks they will be able to argue that they were not distracted. This fact is so well accepted in courts that at least one judge is considering making the person texting the driver also liable for the injuries.
Second, Illinois law made it illegal to text while driving as of January 1, 2010. Additionally, Illinois law makes it illegal to talk on a cell phone while driving if you are in a school zone, construction zone, and those under 19. Illinois is also currently considering HB 3972, which would ban talking on a cell phone statewide if it becomes law. General personal injury law allows for courts to determine that the accident is your fault if you break a law (this is known as negligence per se). This means that, even if you were capable of making some argument as to why you were not at fault for the accident, then the court will look you straight in the eyes and tell you that they don't care because you broke a law that was meant to protect people from harm.
Third, if you are using a cell phone when you get injured, then the other side is going to tell you that you are actually the one at fault. In Illinois, like in most states, if the other driver can prove that you were the primary cause of the accident, then the court can reduce the amount of money you are entitled to. If you are determined to be enough at fault for the accident, then the court will outright deny you any money for your claim. Given that there is now a law against using your cell phone while texting, and driving in some situations, the insurance companies now have a new tool readily available to them to try to reduce the amount of money you deserve. And trust me, as a former defense attorney, I assure you that they will use this tool.
If you, or a loved one, has been injured by a distracted driver, then you need information about your rights. At Shunneson Law Office, I am devoted to demanding an at-fault party's insurance company cover injuries following accidents. Call (847) 693-9120 for more information or contact us to schedule a consultation. Located in Lake County, Illinois, with meeting locations throughout Chicago, we have ability to meet with you at any convenient Chicagoland location from 9:00 a.m. to 5:00 p.m., Monday – Friday. However, evening and weekend appointments are available upon request by calling 847.693.9120.
-Drake Shunneson (copyright 2012)
NOTICE: The materials provided are for informational purposes only and should not be viewed as legal advice. It may also be viewed as advertising material. You should contact us directly, or your attorney, to obtain advice to any issue or problems. This article, by itself, does not create an attorney-client relationship and the opinions are those of the individual author and do not reflect the opinions of the Law Office or any other individual, attorney, entity or individual.