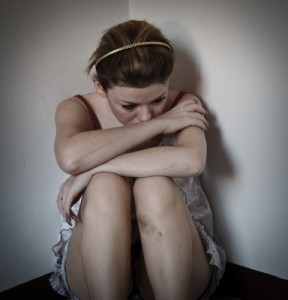 When she came to us, her life was falling apart. She was a single mother of three who had recently gone through a divorce. Her husband kept the house in the divorce and she was forced to move to a bad part of town. She rented an apartment where she hoped she could survive. Even though the apartment was in a bad part of town, she was barely scraping by. Although she had the same job for five years, she was getting paid only slightly above minimum wage. In order to survive, she was using a combination of payday loans and credit cards. Unable to keep up with her debt, she started to fall behind. Soon she found herself $80,000 in debt to the banks. Then the creditors started to call. Unable to get her to pay the outrageous debt that had accumulated as a result of the 20% interest they were charging her, they sued her in state court. Without an attorney to help her, she didn't know what to do and hoped the banks would just leave her alone. The banks didn't and eventually got a judgment against her. Then, at some point, she found herself in need of new glasses and unable to see very well. She saw her doctor and got a prescription for new glasses. Although the prescription was expensive for her at around $200, she knew she would be getting a tax return soon that would help her out. What she didn't know was that the banks were hiding in the shadows ready to pounce and, when the tax return hit her bank account, they immediately filed a garnishment on her account. This was all the money she had in the world at that time. Despondent, alone, and terrified about her future she came to us in tears. Unlike some big bankruptcy firms, we were always available to listen, we were always there for her when she needed someone, and we provided her with guidance as we prepared her Chapter 7 bankruptcy petition. Utilizing our years of experience, we filed her petition, and, because the bank had not followed all of the procedures in taking her tax return, we got her the money back, which she used to pay for rent, glasses, food, and gas.
However, this was not the end of the matter for us. After we calculated her income and expenses, we determined that she was spending more per month than she was making. We knew bankruptcy wasn't the ultimate solution for her and that, if we didn't help her, she would soon find herself right back where she started with another $80,000 of debt. So we helped her by explaining that several of her biggest expenses were not necessary and provided her with sound financial advice that would guarantee that she wouldn't have this problem again. We advised her on getting a roommate to help with her rent, switching to lower-cost phone carrier to cut her phone bill by 1/3, and explaining how she should cut out discretionary spending to a local gym that was charging her over $100 per month. By listening to us, she was able to cut her expenses in half and have a positive net monthly income.
This service we provided was very time consuming, but we felt that this service had to be done and didn't charge her a dime for this advice, even though it was not part of the preparation of the bankruptcy she had hired us for. This is the advantage of utilizing a small law office such as ours. Many big bankruptcy firms will not provide any other service besides making sure you qualify for a bankruptcy and filling out the paperwork because, presumably, it would hurt their bottom line too much. However, even though making sure we can afford to stay open is a vital concern and we can't guarantee we will be able to do this for your case, helping people is also a goal that we strive for and, in this situation, we felt it was imperative that we help our client. Her life had been hard and very few people had ever given her a helping hand. It was about time someone did and we were happy to do it.
Our office is proud to state that not a single bankruptcy petition we have filed has ever been rejected and that all debtors that we have filed for have obtained a discharge order. She was no different and the bankruptcy court granted her a discharge of her massive debts. The last time we saw her she again, she came to us in tears, but this time of sheer happiness. She knew that she was no longer alone and that there was, at least, one person who would protect her rights and that she would never have to worry about facing the future because, even if we couldn't help her, we would be here to take her calls.
When we saw she was wearing her new glasses, we couldn't help but cry too.
At Shunneson Law Office, I am devoted to giving you a fresh start, while protecting important property in the face of overwhelming debt. Contact us for a consultation or for a FREE INFORMATION PACKAGE to better inform you prior to talking to an attorney, or anyone else making promises about your financial future. Located in Lake County, Illinois, with meeting locations throughout Chicago, we have ability to meet with you at any convenient Chicagoland location from 9:00 a.m. to 5:00 p.m., Monday-Friday. However, evening and weekend appointments are available upon request by calling 847.693.9120.
-Drake Shunneson (copyright 2012)
NOTICE: The materials provided are for informational purposes only and should not be viewed as legal advice. The materials also mainly concern Chapter 7 bankruptcies. It may also be viewed as advertising material. You should contact us directly, or your attorney, to obtain advice to any issue or problems. This article, by itself, does not create an attorney-client relationship and the opinions are those of the individual author and do not reflect the opinions of the Law Office or any other individual, attorney, entity or individual. Photos: FreeDigitalPhotos.net.